Bounty hunter Grace deHaviland and Sheriff's deputy Suzie Jensen are back for their latest adventure–and the action's never been hotter!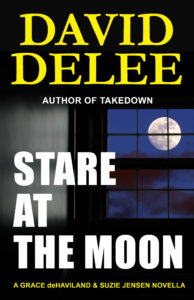 When a violent stalker attacks an unassuming school teacher, Sheriff Deputy Suzie Jensen gets the call. Determined to catch Amy Hewitt's tormentor, Suzie crosses professional and jurisdictional lines, putting her at odds with the investigating detectives. Bad enough, but when the situation escalates from dangerous to deadly, Suzie must call in the one person who can provide the specialized backup she needs: bounty hunter Grace deHaviland.
Get STARE AT THE MOON at these fine retailers.